hi there and greetings from a windy wintery day here in switzerland,
todays my day at
the twinery
and my project was something that started out as a christmas decoration and ended up...well as a page of music!
Whilst perusing the christmas decorations at a local department store i came across a Mozart display with these amazingly glittery treble clefs.. i knew immediately that they would look super cool on a card and made this hot pink diva version initially...
I really loved the pink black combination of this card but i bought four of the treble clefs and wanted to make an even classier version! I had a light bulb moment where i envsioned the note on a piece of manuscript paper...well not just any old piece of manuscript paper of course ...Queue:
Charcoal Twine
!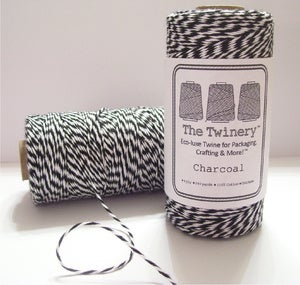 I created the paper from twine by simply cutting similar lengths and attaching them on the back of the white card at either side and fiddling a little on the front side to make them evenly spaced.
once i had finished the paper i attached the clef on top, blinged it up with a rhinestone brad and glued the whole project to a black card to make it pop even more..the end product was this....
any guesses as to the actual sheet of MUSIC its lying on????
if you guessed i am an ABBA fan...you were right! In the spirit of the season it should probably be a christmas tune but they will be all too plentiful in the coming days so ABBA it is :-)
I hope you enjoyed my little project as it is indeed my last on the Twinery Design Team. I opted not to reapply for the team next year although i have thoroughly enjoyed my time with them. It goes without saying, the twine is super cool to work with and the colour selection is second to none but i wanted to concentrate on some projects closer to home and I look forward to seeing a dynamic 2012 Twinery Team very soon!
Thanks for stopping by today!