Today marks the start of the fabulous
Twinery
Blog Hop and over the next three days the whole design team will be showing off the great colours and numerous creative possibilities using this
wonderful twine
. So, if you came here from
Jen Carters
blog then you are on the right track.
My project for today is a card using one of the new colours,
Denim
. Its fast becoming my favourite actually, such a brilliant shade of blue.
Anyway if youre like me and dont like to throw away your scraps of twine then this idea is perfect for you. Simply mark the spot where you want to adhere your twine and lather on a nice portion of your favourite glue (i used a roller). Next place a layer of similar lengths of twine together and then add another layer right over the top at a 90 degree angle and hey presto you have a patch! Although possibly a little on the sad side, its a fact of life, we all have to say sorry at some stage and this card is a fun way to say it dont you think? Lets patch it up!!
(Dress - Maya Road; Alpha stickers - October Afternoon; Buttons - Doodlebug)
Last but not least i am delighted to advise that i am also hosting a giveaway as a thank you for stopping by on the blog hop. The Twinery has ever so generously offerred an
Ultimate Color Sampler Pack
worth $25!!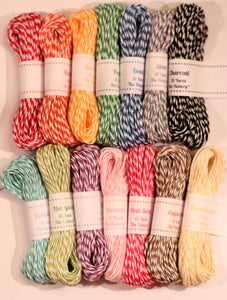 In order to be in the draw for the pack you simply need to leave me a comment telling me your favourite colour of twine from all 14 colours offerred! The giveaway will close on Monday 0800 EST (when I just happen to be expecting a very precious delivery from Canada!!) and please be sure to leave me an address so that i am able to contact you should you be the lucky winner. The giveaway is open to Twinery lovers all over the globe so let me know what colour is at the top of your list.
Have fun on the rest of the blog hop, your next stop is
Emily Leiphart
and just in case you lost your way completely please follow this list

:
Hera Frei (you are here!)